Travel Pillow
Travel Pillows
Hi folks. Today I want to talk about travelling practicalities. There are three very practical essentials that I take with me on every trip I go on. A plastic bin bag, (to line my rucksack and store dirty clothes), a basic first aid kit (for those little mishaps after one too many glasses of the local tipple of wherever I may be) and my travel pillow. I can absolutely not be without my travel pillow. It is an essential piece of kit for any trip of any length. Weather it be on a bus, train, plane, car, boat or sitting on a bench in departures of whatever airport, it just makes the discomfort of travel so much more bearable. In this blog post I'll give you a rundown of the best travel pillows for sale on the market today and the best place to find one that will suit you down to the ground and save you a whole lot of unnecessary neck pain.
Why Do I Need A Travel Pillow
Have you ever been on a long journey when all you wanted to do was fall asleep and wake up on arriving at your destination, but couldn't as it just wasn't practical to rest your head? You could rest your head against the window if you're lucky enough to be sat by one, but they are far from comfortable and generally you end up with a headache from the vibration of the bus or train or whatever. If you're sat in a middle or aisle seat you've got no hope whatsoever. Many planes and buses have reclining seats these days, but this still doesn't provide the respite needed to catch yourself a few hours shut eye while in transit. I'd lost count of the amount of time I had awoken to find my head on the shoulder of the stranger next to me or done a nodding dog impersonation before I got my first travel pillow. It was a life changing discovery, especially for somebody like myself who can fall asleep anywhere. A travel pillow is basically a C-shaped pillow that can be worn around the neck, affording the wearer support for their head and neck if they rest it to the side while sleeping. I'm not sure if I explained that too well, so have a look at the photo below if it isn't entirely clear what I mean.
Foam Travel Pillow
One of the most common form of travel pillows is the foam travel pillow. They are comparatively cheap to produce and are therefore kinder on the pocket. They are more than fit for purpose but they do have a few drawbacks. Firstly, they are quite bulky, so take up a fair bit of space in your hand luggage when hot being used. Also, the foam can prove somewhat uncomfortable and sweaty in warmer environments. These are the most common type of travel pillow but you should aim to spend a bit more and get something of better quality if you want to get the best results.
Inflatable Travel Pillow
These are also relatively cheap but have the benefit of being deflatable for storage purposes when not in use. Problem arise when they deflate while in use and you wake up with a bad neck anyway. The better quality models are worth a look but some of the cheaper ones are not worth the time of day and should be avoided.
Microbead Travel Pillow
Microbead travel pillows are a little more expensive but they are still not going to break the bank in the great scheme of things. They beat the others hands down in terms of comfort as they mold precisely to the unique shape of your neck and are less far kinder to the skin in stuffy conditions than foam. They are also not going to deflate mid-sleep. They also have the advantage of being relatively easy to stow when not being used. This would be my choice of travel pillow if I was buying one for the first time.
Other Types Of Travel Pillows
I've seen and heard of some other weird and wonderful types of travel pillows. The Tumi travel pillow actually has a puffer jacket stuffed inside it, killing two birds with one stone! Ingenious! They don't come cheap though. My friend swears by the J pillow! I'm not sure how that works but there is a photo of one below for you to take a look. Here is an interesting article on the top 15 travel pillows on the market today. Check it out: http://www.travelandleisure.com/style/travel-accessories/best-travel-pillows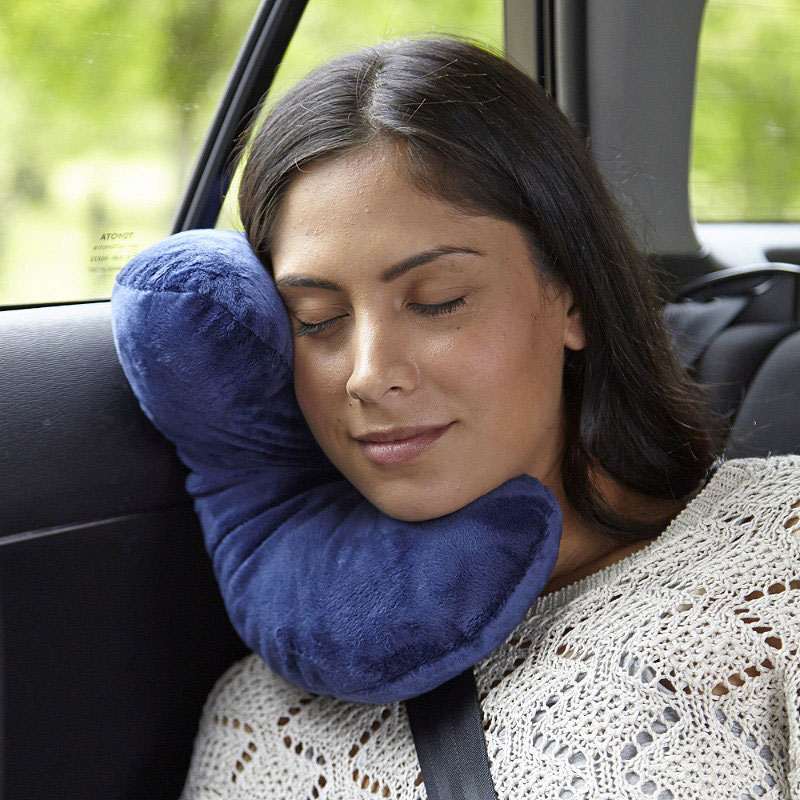 Summary
Well folks, I hope I have enlightened you with regards to travel pillows. Far more exciting than a travel steam iron which I blogged about a few months back and equally as essential. If you haven't already got one, be sure to pick one up before your next trip. Speak soon!